The Arts
At William Reynolds Primary school, we recognise the importance of the Arts to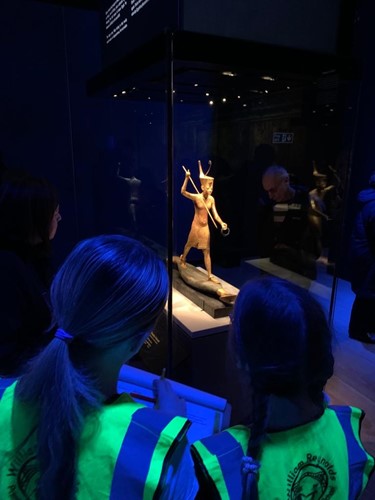 engage children, offering them opportunities to succeed beyond the traditional academic curriculum, stimulate their talents and spur on their academic performance, creativity and independence in order to aspire for the future.
Our principle aims for the Arts are for children to:
foster an understanding and enjoyment of the Arts
experience a broad and balanced range of Arts and show progression within these experiences
look at their world with curiosity
use the creative arts as means of communication
understand that Arts exist in all cultures and to appreciate and value their many forms
A broad and balanced creatively driven Arts curriculum helps our children to develop a creative flair and imagination and give children a better understanding and knowledge of cultural capital.

At William Reynolds Primary School, we value the Arts as an important part of the children's entitlement to a broad and balanced curriculum. The Arts provides the children with the opportunities to develop and extend skills and an opportunity to express their individual interests, thought and ideas.
Our art and design education should engage, inspire and challenge pupils, equipping them with the knowledge and skills to experiment, invent and create their own works of art, craft and design. As pupils progress, they should be able to think critically and develop a more rigorous understanding of art and design. They should also know how art and design both reflect and shape our history, and contribute to the culture, creativity and wealth of our nation.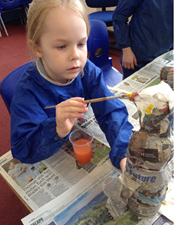 We want to create a passion for music in our children that will stay with them in their future lives. We want to ensure that music is an inspiring and engaging experience that enables every child to develop their musical potential and develops an appreciation of the value of music that is deeply personal to them. We want children to have a curiosity for the subject and a respect for the role that music may play in any person's life.
We intend for children to for the children to opportunities for to express themselves through drama and dance and have opportunities to work with artists from different cultures or visit galleries, museums or places that would inspire their creativity.
To ensure high standards of teaching and learning in Arts, we implemented a curriculum that is progressive throughout the whole school.
Art and design is taught as part of a half termly topic, focusing on knowledge and skills stated in the National Curriculum. The children have the opportunity to explore and evaluate different creative ideas by developing skills in drawing, painting, printing, collage, textiles, 3D sculpture and digital art. Children study a range of works by famous artists to develop knowledge of styles this achieve through cross-curricular opportunities in the classroom. The children have a sketchbook that follows them through the school to show progression. Artwork is displayed and celebrated around school to motivate and inspire others and to celebrate the pupils' artwork in their class.
The music curriculum ensures children sing, listen, play, perform and evaluate. This is embedded in the classroom through the structured music scheme KAPOW as well as the weekly singing assemblies, various performances, a choir and teaching from specialist music teachers who teach individual children. The elements of music are taught in the classroom lessons so that children are able to use some of the language of music to dissect it, and understand how it is made, played, appreciated and analysed. In the classroom, children learn key aspects of music through cross-curricular links. They also learn how to compose, focusing on different dimensions of music, which in turn feeds their understanding when listening, playing, or analysing music. Composing or performing using body percussion and vocal sounds is also part of the curriculum, which develops the understanding of musical elements without the added complexity of an instrument.
Dance, drama and creative writing are taught throughout the school using cross-curricular links.