Early Years
At William Reynolds Primary School and Nursery, we adhere to the four overarching principles that shape our practice within Early Years settings. These are central to us creating a Foundation Stage that starts with the child, supports, and develops the role of parents, offers a high-quality environment, and provides pupils with exciting contexts for their learning. We believe in encouraging children to be curious, to play and explore, actively engage in their learning, and develop skills of creativity and critical thinking.
Our four overarching principles – from the Statutory Framework for the Early Years Foundation Stage- are:
Every pupil is a unique child, who is consistently learning and can be resilient, capable, confident, and self-assured.
Pupils learn to be strong and independent through positive relationships.
Pupils learn and develop well in enabling environments with teaching and support from adults, who respond to their individual interests and needs and help them to build their learning over time. Pupils benefit from a strong partnership between practitioners and parents and/or carers.
Importance of learning and development. Pupils develop and learn at different rates.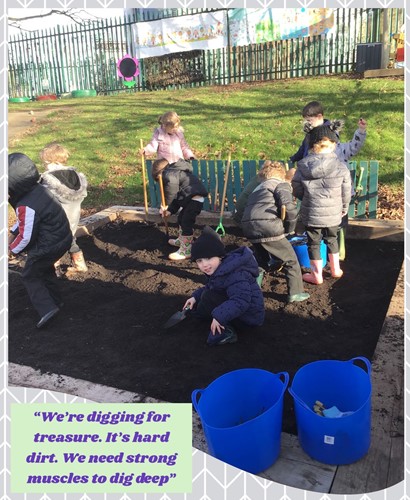 The core of our EYFS curriculum is the Statutory Framework for the Early Years Foundation Stage, which is supported by Read, Write, Inc, Early Years Foundation Stage Profile (2022), Development Matters, Birth to 5 Matters and the Seven Features of Effective Practice.
The curriculum has been coherently sequenced in a logical progression to ensure that new knowledge and skills build on what has been taught before. This enables our pupils to know more and remember more ready for future learning. End points are identified across all seven areas of learning in the EYFS progression document.
We cover the seven areas of learning to ensure that pupils experience a curriculum that is broad and ambitious that develops their vocabulary and prepares them for their next stage of learning. Our school's approach to teaching early reading and synthetic phonics is systematic and ensures that pupils learn to read words and simple sentences accurately by the end of Reception.
Nursery and Reception have curriculum maps that outline the seven key areas of learning on a two-year rolling programme. This ensures that adequate amount of time and coverage is allocated to each key area.
Medium Term planning supports teachers to plan a board, balanced and meaningful curriculum that enables pupils to build on previous learning and have opportunities to master new concepts whilst providing the flexibility for children to follow their own interests and ideas.
The curriculum provides a play-based and experiential learning environment, combined with focussed teaching to ensure pupils make rapid progress before moving onto Year 1. The children in both Nursery and Reception are provided with ample opportunities accessible in our indoor and outdoor provision. They engage in planned, focussed activities as well as self-initiated and free flow activities. Pupils investigate and experience the world around them by being willing to always have a go. Pupils need to be active and this active approach to learning supports their ability to concentrate and to keep persevering when they encounter challenge and difficulty.
The pupils will learn new skills, acquire new knowledge, and demonstrate understanding through the seven areas of the EYFS curriculum:
Personal, Social and Emotional Development
Physical Development
Communication and Language
Literacy
Mathematics
Understanding the World
Expressive Arts and Design